Our Parts Center
At Land Rover Little Rock, we want to ensure your vehicle stays in excellent condition so it can continue to bring you on some thrilling and unforgettable adventures. Therefore, we offer an on-site parts center to our friends in Little Rock, Benton, and Conway.
We have a great inventory of genuine OEM parts as well as knowledgeable technicians who'll perform all services in an efficient manner while still maintaining a high level of quality and care. If your vehicle's in need of a parts replacement or repair, visit our parts center today!
Why Visit Our Center?
Need a brake pad replacement or a new battery? At our parts center, our technicians are highly trained and factory certified to perform the necessary repairs and replacements your vehicle may need over the years. A member of our service team will diagnose any issues within your engine and recommend the best course of action.
We boast a wide inventory of parts, so you're sure to find what you're looking for. After you've located your ideal part, one of our technicians will happily install them for you.
We're experts in our field, so if you have questions about parts or installation, reach out to a member of our team today.
Why Use Genuine OEM Parts?
Our parts center is committed to providing your car with the proper attention it deserves, so we utilize genuine OEM parts. What are the benefits of using these parts in your SUV? Read on to find out!
Higher Quality
OEM stands for Original Equipment Manufacturer, meaning these parts are the same as the original components used in your vehicle. Off-brand parts may have a benefit when it comes to price, but they are made by a third-party company, so they're not specifically crafted for your vehicle's individual needs.
More Durable
Typically, OEM parts have been built to last longer and withstand more extreme conditions. Land Rover models have been constructed to take you on some serious off-road excursions, so you don't want to compromise this capability with lesser parts.
Easy to Shop for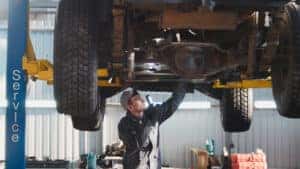 Since off-market products aren't made specifically for your vehicle, it can be difficult to tell what will work with your vehicle and what will not. However, genuine OEM parts are made for your vehicle, which eliminates the guesswork and makes it easier to the find the exact parts you need.
Protect Your Value
Leasing your current vehicle? Then genuine OEM parts will ensure you stay within the guidelines of your lease. If you own your Land Rover instead, you'll still want to opt for OEM parts since they help to protect your long-term investment since these components are the same as the ones your vehicle was originally equipped with.
Visit Our Parts Center Today!
No matter what your vehicle needs, stop by the parts center at Land Rover Little Rock to get any repairs and replacements. Our friends near Little Rock, Benton, and Conway can contact us today to schedule an appointment or to ask any questions you have about auto parts and services.