Brake Pads vs Rotors

A lot of parts are involved in slowing your vehicle down and stopping safely. The brake pads and rotors are essential to reducing your speed. One part moves as quickly as your car, while the other forces it to slow down. So, what do these parts actually do? Land Rover Little Rock finds out. We put this brake pads vs. rotors breakdown together to help drivers in Little Rock and Conway, AR learn more about your brakes. If you're ready to schedule service, you can easily schedule vehicle maintenance online!
What Are Brake Pads?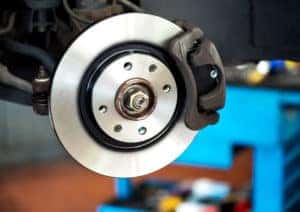 Brake pads slow your car down but creating friction. They're attached to a set of calipers that sit just a few inches above your wheels. When you step on the brake pedal, they press up against the rotors and cause them to spin slower, and eventually stop moving.
Brake pads can be made from a few different materials. There are metallic brake pads, ceramic pads, and an organic mixture of carbon compounds, rubber, fiberglass, and Kevlar. One thing they all have in common is that they're capable of helping you drive safely.
Over time your brake pads will wear down, though. They'll eventually need to be replaced. Getting new ones is actually part of your routine maintenance. How long they last depends on how you drive. If you tend to slam on the brakes, you'll probably need new ones before someone who usually comes to a slow, gradual stop.
You'll know that it's time to get new brake pads when your brakes start squeaking. That's right. That infamous sound is actually a friendly maintenance reminder. Most brake pads are built with a tiny indicator tab inside. Once they've worn down, this tab will make contact with the rotors and create that unmistakable high-pitched squeak.
Hearing that high-pitched squeak? Schedule your vehicle service online today!
What Are Rotors?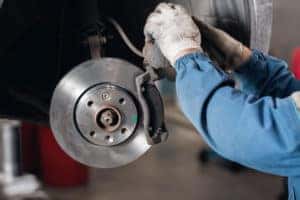 Rotors are a part of your wheels. These silver discs spin around while you drive, just like your tires. You may even be able to see the rotors through any gaps in your hub caps. The rotors are what the brake pads press up against as you're slowing down and stopping.
Rotors are built to be tough. They're made of metal and spin at high speeds. They don't wear down or need or need to be replaced regularly like brake pads. However, being on the receiving end of that friction can take a toll on them, too.
Every so often, a rotor a small crack can form in a rotor. It's also possible for them to warp and curve slightly over time. That's why technicians always inspect your rotors when you come in for maintenance. Some of the signs that you've got a bad rotor include feeling vibrations in your steering wheel or hearing a creaky sound when you use the brakes.
Brake Service & Repairs
When you need brake service or maintenance, schedule an appointment with Land Rover Little Rock. Our service center features a team of certified technicians. They'll take good care of your rotors and replace your brake pads for you. Plus, we help drivers in Little Rock and Conway, AR, stop safely with OEM parts and accessories. These were made just for your model, so they'll be the perfect fit. If you have any questions about brake pads vs rotors, contact us or visit our service center.